Our blog has been set up to provide you with helpful information regarding maximising the effectiveness of your online marketing strategy.
There are many interesting independent articles and whitepapers here to download and links to some of the best resources on the net.
Check out the NEW Global Pitch Summit Landing Page Website Designed & Constructed by Honeyweb Online Marketing Solutions
This opportunity is for ANYONE with an IDEA … about ANYTHING!
The Adelaide Pitch Your Idea Summit will take YOU from ideas phase to successful launch. We'll bring your vision, no matter how bold or unrefined, to life through our world-class panel, proven capital raising process and exciting international TV show.
Want a Landing Page for your business, contact us today!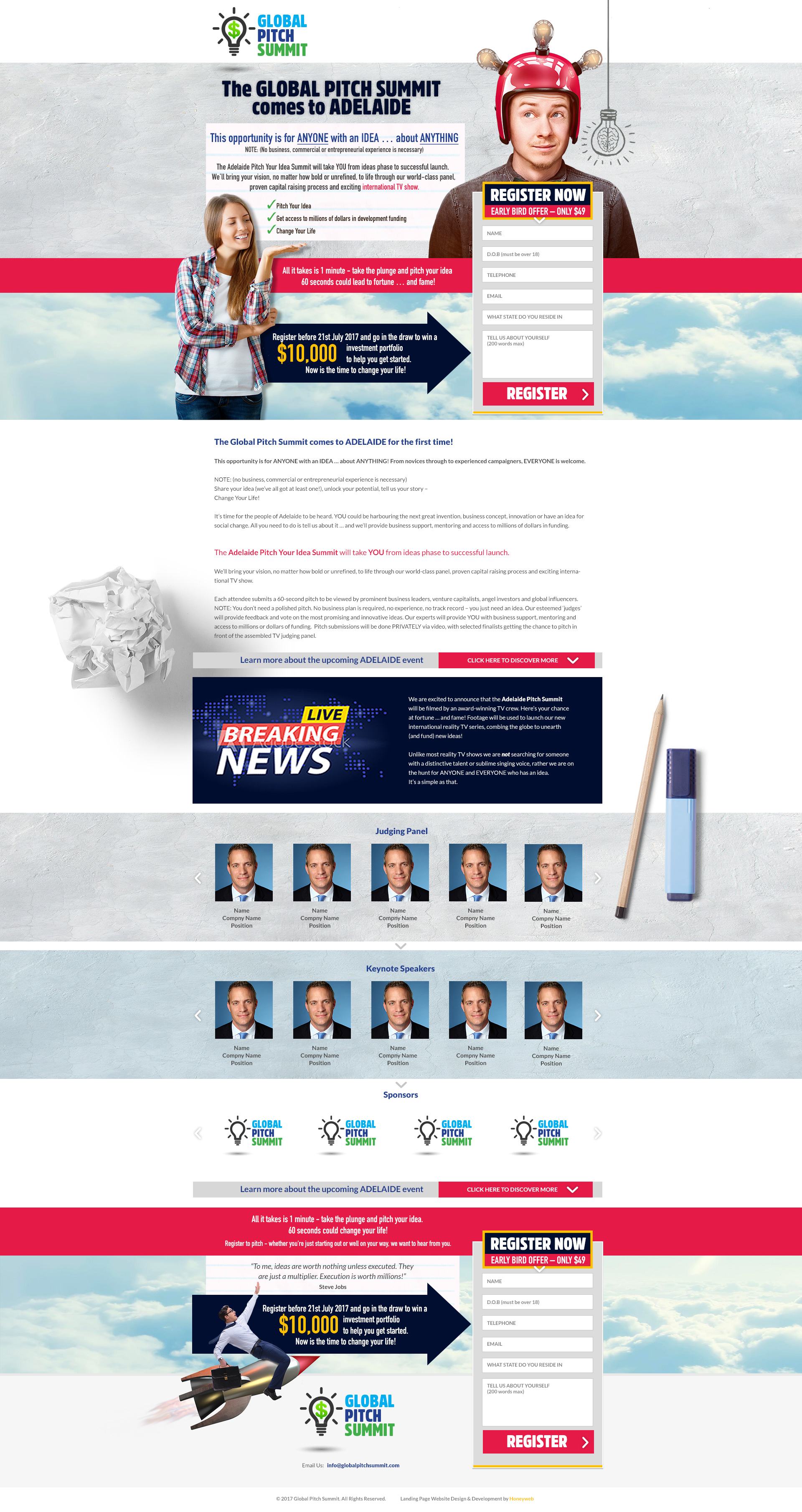 Launch Website
If you need help with your online marketing, we are offering a completely FREE online marketing strategy session!
Call Steven Hamilton on 0417 871 661, complete the form below to book your FREE strategy session or just send through your enquiry and let's make 2019 your biggest year yet.
Testimonials
"A huge 'thankyou' to the team at 'honeyweb' for the Leicester's amazing new website and ezmail marketing. We had an extremely out of date website which was very time consuming to manage, so we needed a fresh new look and that's exactly what honeyweb created! From initial contact, everyone put in 110% to create exactly what we needed, a modern, stylish and easy to navigate website with more efficient marketing solutions. Everyone was committed to the development of our business. Honeyweb's techie" Trent was always available and happy to answer all of our questions. This professional yet individual approach gave us assurance we would be happy with the end result and it has certainly surpassed our expectations! From the very creative and attractive design of the site, through to our new ability to connect with customers and track their interest online, everything has been well explained and is definitely user friendly! Creating our first new campaign through ezmail was quick, simple and looked fantastic! The positive feedback from our customers and amount of unique hits on our new website is a remarkable transformation!""
Ian, Nathan, Nat & Tanya
The Earl of Leicester