We take boring everyday email and transform it into a stunning brand experience that not only does justice to your brand but increases sales through our beautifully designed banners strategically placed below each signature, just like the one you can see below.
The cool thing about when you do this is that your emails get interacted with at a much higher rate and you can track all of this through the Black Pearl platform.
See who's opening your email, not opening your email, clicking on links in your emails and you can even get sent real time notifications when all of that's happening, meaning you're capturing that magic minute with that recipient because now you know the best time to follow up.
If your email signature isn't generating business, it's just wasted space. Black Pearl transforms traditional signatures into a marketing channel with no code or IT needed required. Just beautiful signatures complemented with marketing banners and analytics to make every email more effective.
Need more info, click here checkout the PDF "General Information".
Need more info, click here checkout the PDF "Turn your everyday emails into revenue".
Want one for your business?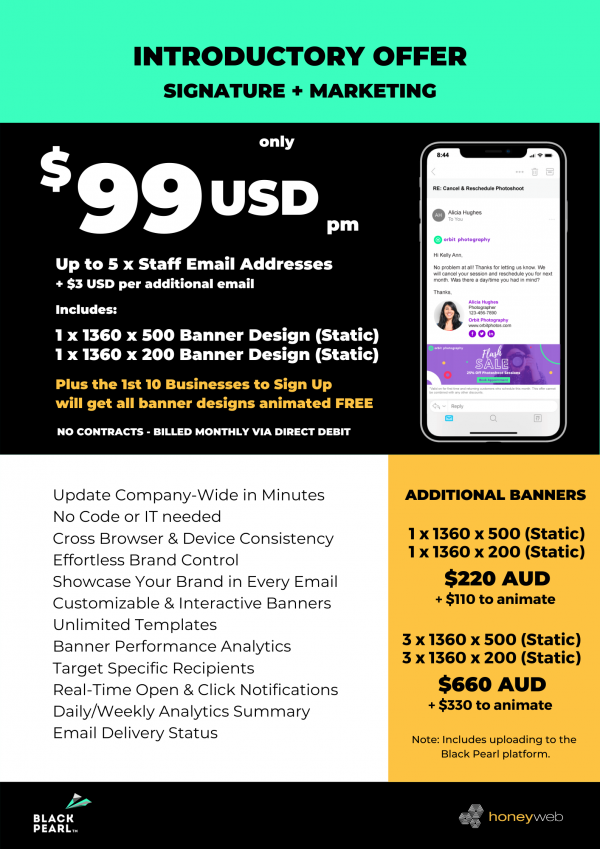 Contact us and Iet's get you set up.
If you need help with your online marketing, we are offering a completely FREE online marketing strategy session!
Call Steven Hamilton on 0417 871 661, complete the form below to book your FREE strategy session or just send through your enquiry and let's make 2023 your biggest year yet.