Our blog has been set up to provide you with helpful information regarding maximising the effectiveness of your online marketing strategy.
There are many interesting independent articles and whitepapers here to download and links to some of the best resources on the net.
Check out the new Bison Electrical Website Designed & Constructed by Honeyweb
As Accredited Master Electricians Bison electrical is proud to provide the best electrical services to the residential and commercial market across Adelaide.
Why choose them? At Bison Electrical they believe that just as important as the high quality of their work so is the level of customer service. their staff are not only fully licensed electricians that can service or install any electrical system, but they also carefully select only those electricians that share their pride in being punctual, friendly, tidy and have great communication skills , because a professional job is about much more than just being a good electrician.
Testimonial
"After getting very frustrated with previous efforts and "marketers" we were very happy to have found Honeyweb to assist us with our online marketing, Steven is an expert and is really focused on results based marketing efforts and doesn't hide behind the smoke and mirrors which is so common in this industry. Steven and the Honeyweb team have been able to provide us with great advice and very practical solutions including our new website, email marketing template and facebook business page. All in all, a great value service!"
Matthew Watts - Bison Electrical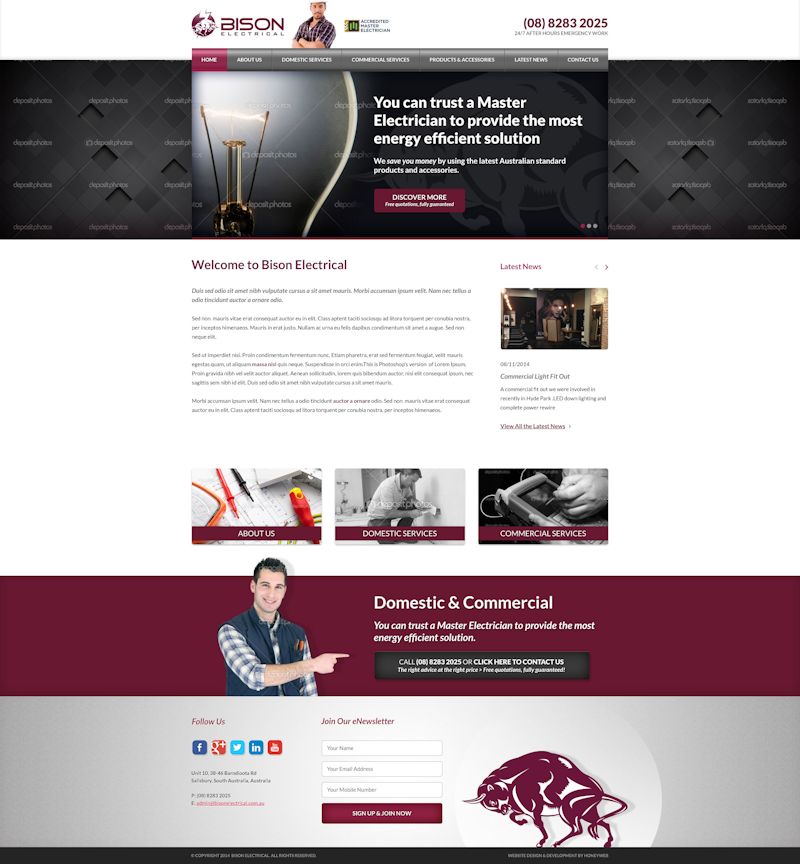 Launch Website
If you need help with your online marketing, we are offering a completely FREE online marketing strategy session!
Call Steven Hamilton on 0417 871 661, complete the form below to book your FREE strategy session or just send through your enquiry and let's make 2020 your biggest year yet.
Testimonials
"Great marketing, lead generation & value added tool. Give it time, focus on the information & make it consistent. It can work very well for your business."
Tim Kay
Fitness 5022