8 Phenomenal Organic Facebook Marketing Strategies For Small Business
Let's face it – when it comes to social media, Facebook wins. Its more popular than other social media platforms, has more subscribers – in fact over 1 billion of them - and more marketers use it to influence purchases and gain new customers.
And with those kinds of numbers, the chances are that a large majority of your audience and customer base is on Facebook.
So how can your leverage that to gain new customers and improve your brand presence?
Through Facebook Marketing!
Facebook is a very clever social media tool. Although it seems complicated, it provides in-depth insights (if you have the time to look) into who's engaging with you and who is likely to engage if they came across your brand. It churns out hard core numbers for every little thing you do on Facebook which makes marketing on Facebook almost a science.
But for most small businesses understanding the science behind Facebook's algorithms and calculations needs a lot of time and patience and leaving it to the experts makes complete sense.
Of course, that does not mean you can't do anything about marketing on Facebook. It's about getting strategic and using these strategies to implement strong organic Facebook marketing.
Yes, you're right - the kind which does not cost you anything other than your time and a whole lot of love for the way Facebook works.
So let's dig right into those awesome Facebook marketing strategies.
---
1. CREATE A BUSINESS PAGE
You can't market your business with a personal profile – it gets too messy and can be confusing to your customers and people interested in your business.
By setting up a business page you can use all the business tools provided, which you will need, to leverage your marketing efforts. With a Facebook business page you can maximise your business brand reach and generate more engagement through your News feeds.
A Facebook business page (whether you are a local business, an ecommerce business or a service provider) will enable you to establish your brand more effectively without delving into your personal life which is reserved for personal profiles.
After all, all those fans that like your business page are interested in what your business is about and what you can do for them.
Remember to add an appropriate cover photo which grabs the attention of your audience, and add a clear call-to-action which will spur visitors to your page to take some sort of desired action.
2. SET YOUR GOALS
Just like all things in business, you need goals for your Facebook business page. Why are you setting up your business page? What do you want to achieve with your page? Is it more engagement for your content? Are you looking to build a community of followers? Or do you want more traffic to your website? Perhaps you want to increase sales through your page?
When you set goals, you know what to look out for. But make sure your set SMART goals – Specific, Measurable, Attainable, Realistic, and Time-based – as this will help you attain clarity and focus. It will give your Facebook Marketing direction it needs to move towards objectives you can achieve.
By having specific numbers and dates by which you want to achieve these goals you will be able to measure your efforts which will provide direction for future marketing initiatives on Facebook.
3. KNOW YOUR FACEBOOK INSIGHTS
Facebook Insights is a handy tool which you should keep an eye on regularly. Check how your marketing efforts are going? Which posts are doing well? How many people engaged with a particular post? Did more women share engage or men? What is a blog post link or an image? What type of content is not successful?
There are so many questions and Facebook Insights will give you these answers.
These numbers provide you an insight into your audience and what is working with them and what is not. You can track the performance of your paid marketing and organic marketing efforts by selecting Organic/Paid from the Reach drop down tab.
Don't just look at these numbers, learn from them and derive evidence of what is working and why. Use it to tweak your marketing plan or change it completely and make data-driven decisions regarding your Facebook marketing.
4. ENGAGE THROUGH THE RIGHT COMBINATION OF CONTENT
The key to any marketing strategy is - knowing and understanding your demographics. With Facebook, you can find out about what languages they speak, what gender group they fall into, where they live, what are their ages, what devices they use - all this looking through the various tabs in your page Insights.
Now that you know your demographics, you can use this information to target certain groups of people with specific posts and content by segmenting them. For example if you sell sporting goods and want to market your line of football gear for men, you can specifically target men who have expressed interest in football within a particular age group and geographical location.
Depending on your marketing goals, your business and your audience - create content which will communicate your message along with your brand philosophy while also establishing you unique selling point.
Find the right combination of content which works for your business – which means that you share the right type of content with the right audience and at the right time. That is - provide content which is relevant to that segment of your audience that needs it and provide it at a time when they are looking for those answers. For this you should have a good understanding of your marketing and sales funnel.
Always post highly relevant, interesting, engaging and useful content as Facebook's algorithms will identify quality over quantity and good quality posts will make an increased appearance in people's news feeds.
High quality content also gets shared more by fans, followers and other audience in your reach, making this type of content appear more in the news feed and for a longer time.
There are various types of Facebook content which you can create and post:
Blog post and informative articles:
Sharing links to your blog posts and other content is a great way to let your audience know about you, while providing invaluable information to them. But don't get stuck on sharing just your posts and articles. Also share links to informative posts and articles written and created by others. In fact you should have an 80-20 mix in your content sharing schedule -which means 80 percent of the content should be other's interesting content and 20 percent should be yours.
This one is a biggie. We know that visual content drives more engagement. 74% of social media marketers use visual assets in their social media marketing ahead of blogs and videos, according to a Social Media Examiner report and people are more likely to retain information which is visually presented.
So, visual content should be an important aspect of your Facebook marketing strategy.
Posts with photos, and images capture the eye so easily - people just love it. So make the most of this.
Create content which is visually appealing. Use stock images, hire a photographer, design eye-catching social media posts with the help of various online tools such as Canva, Stencil or Adobe Spark or hire a designer and a content creator to work on some winning designs.
Visual content can range from quotes overlayed on images, to beautiful photographs to info-graphics and collages - anything different, interesting and visually enticing will do the job of driving engagement and increasing the number of shares and likes and building a strong fan base.
In 2017, video became a very popular form of content representing 74% of all internet traffic with 4 times as many consumers who prefer to watch video than read.
Video content became the top priority amongst marketers in 2017 as more and more people watch videos on their mobile.
This trend was quickly recognised by Facebook and added to their algorithm by prioritising videos in their news feed.
Facebook videos auto-play without sound in the news feed and must capture the attention of the audience in the first three seconds, for them to watch more. And that's why it is a great idea for videos to have captions and the video must communicate your message quickly in those few initial seconds.
Also remember to add a call-to-action on your Facebook videos which is a great way to encourage your audience to engage, share and convert your audience into customers.
Have you tried Facebook live?
It's the simplest way of getting in front of your audience. You show them who you are by talking to them through videos using the Facebook Live tool. Your audience can engage with you in that moment, when you are live in video and send comments and questions. You have the opportunity to acknowledge them and answer their queries which makes your audience very responsive.
You can use Facebook live to impart training about something, give a sneak peek into industry or office events, hold a question and answer session, launch your new products or engage with other content.
Facebook live has facilitated the growth of social videos which are tremendously popular on Facebook and is responsible for much of Facebook's growth in 2017.
5. CONTESTS AND SURVEYS
Competitions and contests are always popular. Everyone wants to try their hand at it and if there's something to gain at the end of it (the prize) then it's even better. This is another way to capture leads and get your audience to participate which usually resonates amongst a larger audience as your fun and innovative contest gets shared with others.
Use your creativity to come up with some awesome contest ideas which will boost excitement and participation – this also helps spread the word about your brand.
Surveys work well when you want your audience to engage with you. You can ask them their opinions on things – like the type of content they would like from you? What do they expect from your brand products or services? Is there something you can do to help them with their pain points?
You can also use surveys in a fun way to engage with your audience by not asking very serious questions but by engaging through some fun questions, or you can use surveys to gather important information about your audience which will help you make evidence-based decisions.
6. START A FACEBOOK GROUP
Another strategy for increasing your audience and your customers is by starting a Facebook group. But only start a Facebook group if you have time to engage with group members on a regular basis. Facebook groups are great in building momentum and getting to know your audience more personally. It's a place where members can share things about themselves more freely and so can you.
There are various reasons to start a Facebook group – to impart training and to provide valuable information to your group members, or to advise them on how to use your products and to gather feedback from members including photos regarding their purchases from you, or to boost social engagement by encouraging members to share content on a particular topic like conversations based on pet types, if you run a pet store, for example.
A Facebook group also gives you the opportunity to stay in touch with your biggest fans, who are your organic brand ambassadors and this helps to amplify your marketing efforts.
Reward your members with discounts and pre-purchase options or use it to run a Facebook event or a Facebook party.
7. FACEBOOK EVENT
Your marketing initiatives can go a step further with Facebook events and it's a terrific way to get the attention of your audience. If you are hosting any kind of event for your business then creating a Facebook event enables you to spread the word, stay in the loop with your audience and engage with them by letting them comment and post on your event wall.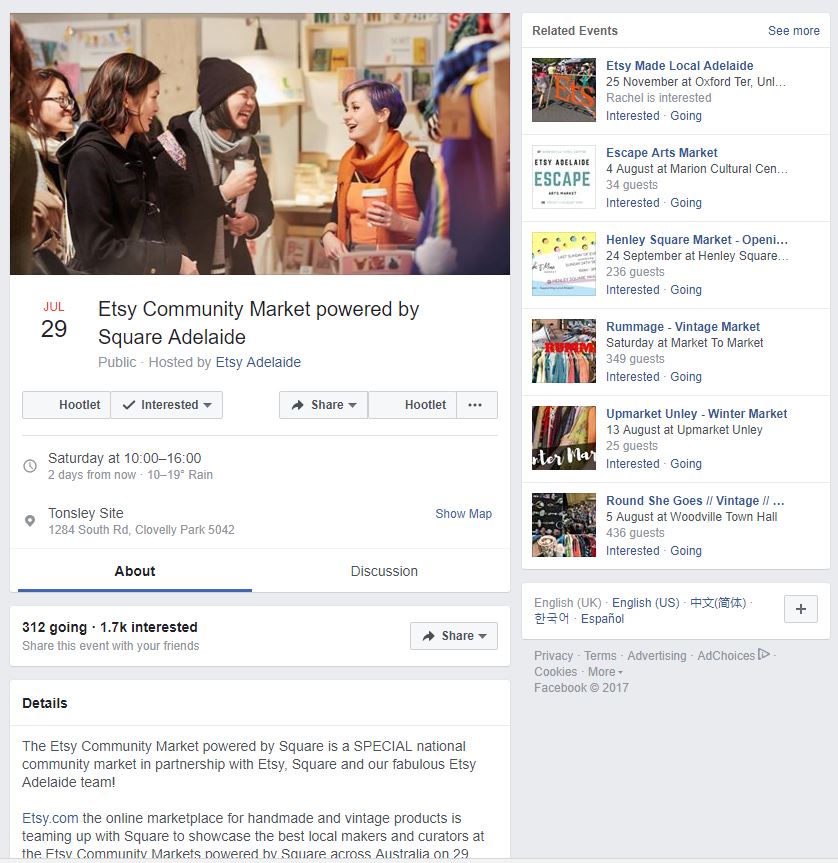 As Facebook events are now connected with the calendar on everyone's smartphone – you can send updates about the event, news, videos, share timelines on event preparation or talk about celebrities and influencers invited for your event and keep the conversation going about your brand, your business and your event.
8. FACEBOOK PARTY
Hosting a Facebook party is a fun way to create buzz. Everyone loves a party and in the digital space this is innovative and exciting. You can host a party through Facebook events or host it on your business page.
Set the theme for the party which aligns with your business. It doesn't have to be a serious gathering. After all parties are meant to be fun – a fun way to engage and get to know your audience better and for them to know more about you and your products and services.
Generate a buzz by sharing images and entertaining posts before the party, send out invites and build relationships on the way.
Let people know how the party will work, decide who will be the host, organise gifts and giveaways through a contest, get your audience to participate through comments or posting pictures and use Facebook live or use Zoom Video Webinar to stream to Facebook.
Facebook offers many options for you to market your business organically. All you have to do is get creative, plan you content, monitor and analyse your efforts and make strategic decisions.
The most important thing is to keep those important conversations with your audience on-going. Respond to messages you receive from your audience, whether they inquire about something or make complaints - through comments or through Facebook messenger, and provide useful information which will help them.
At the top of all your marketing objectives should be the need to help your audience first, and that is the secret to brilliant Facebook marketing.
Do you have any phenomenal Facebook Marketing strategies you would like to share? Comment and let me know.
Want to start Facebook Marketing for your business? Need someone to help? Contact Honeyweb today.
By Meena Azzollini
honeyweb.com.au
If you need help with your online marketing, we are offering a completely FREE online marketing strategy session!
Call Steven Hamilton on 0417 871 661, complete the form below to book your FREE strategy session or just send through your enquiry and let's make 2019 your biggest year yet.
Testimonials
"Thanks for introducing me to your exceptional product. After 6 months procrastination we launched our first edition on 30 May. The $38.50 cost of sending the emails reaped $5000 revenue (8 purchases) directly from the offer made in the newsletter from clients who hadn't been in touch for over 6 months. This far exceeded my expectations. Coming up 30 June we made a last week of the financial year offer and that generated another $5000 revenue (10 purchases), this time from our complete database (still only costing $55.00). Truly amazing. We have also noticed an increase in general business which has co-incided with the introduction of the newsletter. This could be co-incidence but I think that using this neat simple tool to communicate with our database has created an awareness and triggered flow-on business. Very inexpensive, easy and simple tool to use - my only regret is that we didn't get going earlier. I believe every business should bite the bullet and sign on."
Nick Llewellyn
Little Adelaide Catering Co